Event Navigation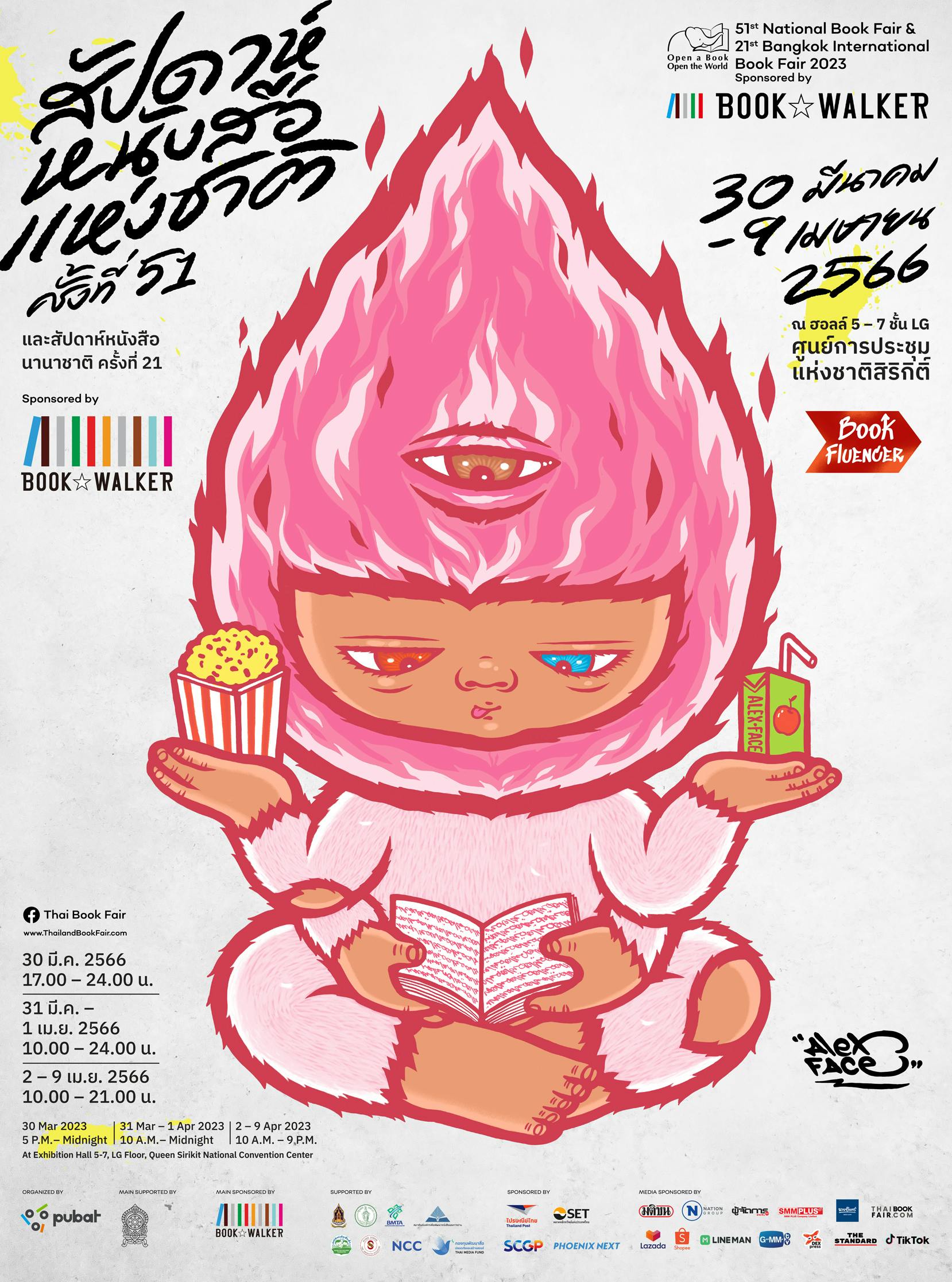 สัปดาห์หนังสือแห่งชาติ ครั้งที่ 51 และสัปดาห์หนังสือนานาชาติ ครั้งที่ 21
สิ้นเดือนนี้เตรียมพบกับงานที่ทุกคนรอคอย สัปดาห์หนังสือแห่งชาติ ครั้งที่ 51 และสัปดาห์หนังสือนานาชาติครั้งที่ 21 ภายใต้ธีม "Bookfluencer"
อินฟลูสายนำอ่าน เทรนด์ใหม่ที่สร้างแรงดึงดูด เปลี่ยนมุมมองใหม่ให้คนทั่วไปมองว่า อ่านแล้วมัน Smart ขึ้นได้ขนาดไหน สิ่งใหม่ๆ ที่ได้อ่านจากหนังสือจะเปลี่ยนให้คุณเป็นคนใหม่ ในเวอร์ชันที่ดีกว่า
พบกับหมวดหนังสือ 7 โซน และกิจกรรมจากหน่วยงานต่างๆ อีกมากมาย ที่สอดคล้องกับความเป็นอินฟลูสายนำอ่าน อาทิ TikTok / TK Park / BOOK☆WALKER ฯลฯ
 วันที่ 30 มีนาคม 2566

 เวลา 17.00 – 24.00 น.

 วันที่ 31 มีนาคม – 1 เมษายน 2566

 เวลา 10.00 – 24.00 น.

 วันที่ 2-9 เมษายน 2566

 เวลา 10.00 – 21.00 น.
 Hall 5 – 7, ชั้น LG

 https://www.facebook.com/bookthai
51st National Book Fair & 21st Bangkok International Book Fair 2023 (BKKIBF2023) Sponsored by BOOK☆WALKER will be held from March 30 – April 9, 2023 for 11 days at Hall 5-7, LG Floor, Queen Sirikit National Convention Center. The opening and closing times are as follows:
30 March, 2023                  from 5:00 p.m. – Midnight.
31 March – 1 April, 2023      from 10:00 a.m. – Midnight.
2 – 9 April, 2023                 from 10.00 a.m. – 21.00 p.m.
BKKIBF2023 is organized under the concept of "Bookfluencer", the leading influencer for reading It is a new trend that creates attraction. Change a new perspective for people to see how smart they can be after reading. What new things you read from books will change you into a new person and better version So anyone can become a "Bookfluencer".
There are more than 300+ publishers and 900+ booths. Readers will find 7 zones of book categories, including General book zone, Fiction and Literature Book zone, Y Fiction book zone (Wonder Y), Comic book zone (Book Wonderland), Children's and Educational book zone, Rare book zone and International books Along with many activities from various organizations that correspond to being a Bookfluencer, such as TikTok / TK Park / BOOK☆WALKER, etc. There is also special promotion from various publishers up to 80%. Follow the details of BKKIBF2023 on Facebook Fanpage: Thai Book Fair.