Event Navigation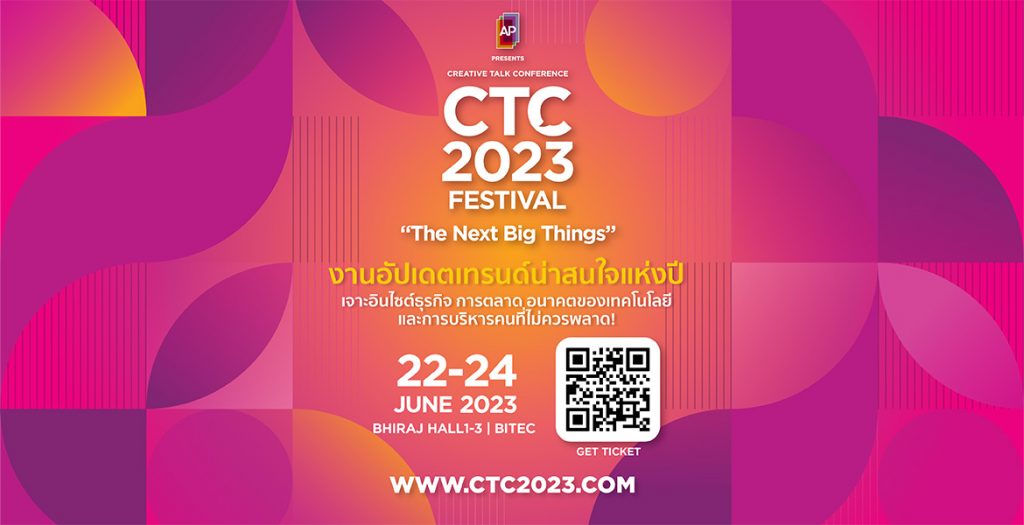 Come and be part of the CTC2023 Festival, a fantastic event that brings together the latest trends of the year! Explore the intriguing realms of business, marketing, future technology, and effective people management. Immerse yourself in the theme "The Next Big Things…" as we unveil the exciting wonders that lie ahead in the near future. Don't miss out on this incredible opportunity – save the date and be a part of an unforgettable experience!
1.Event Name: AP Thailand Presents CREATIVE TALK CONFERENCE 2023 FESTIVAL "The Next Big Things"
2.Date: Thu 22 Jun – Sat 24 Jun 2023
3.Time: 9.00 am. – 5.00 pm.
4.Venue: BHIRAJ HALL 1-3
5.For More Information
Facebook: https://web.facebook.com/creativetalklive
LINE OA: http://bit.ly/3mEmE56
WWW.: https://www.ctc2023.com/