Event Navigation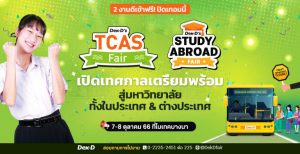 Date : October 7-8, 2023
Time : 09.00 AM – 05.00 PM
Venue : Hall EH98
For More Information
Facebook: Dek-D's TCAS Fair & Study Abroad เรียนต่อนอก by Dek-D
LINE OA: @DekDFair
Website : DekDFair.com and DekDStudyAboardFair.com
E-mail : event@dek-d.com
The Big 2 Free Fairs!
The great high school children's event by Dek-D to prepare for university (both in Thailand and abroad). Come to the event, you can participate in two fairs.
1) The 10th Dek-D's TCAS Fair 2023
A big education fair to prepare for university, meet with seniors, experts, goods, services with more than 180 booths.
Not only is there an activity booth, a program booth, a full-service consultant booth, but also a certificate for participants.
Especially for high school students, parents and guidance counselors. (10,000+ attendees are expected.)
(2) Dek-D's Study Abroad Fair
A study abroad fair for beginners that you can meet counselors to prepare early at this event.
There are 4 activities to help you get into and prepare for studying abroad, which you can participate in for free.
Alumni's Talk : Meet scholarship seniors who have a lot of experience studying abroad. (Free Entry)
The event will be held along with Dek-D's TCAS Fair (in the same date & place)